3 Tips for Creating Dynamic Fashion Photographs
This is the first article of a three-part series where I'll guide you through how to understand imagery and how you can take that understanding and apply it to your photography. In this part 1 of the series, I will discuss symmetry, incorporating body paint, and using props to create extraordinary and compelling images. Let's get started...
Symmetry is a balance. It's perfection in the midst of chaos. Our eye is drawn to things that have balance because it is calming on our brain. It also helps move our eye around the image because when we see balanced things we become calm and transfixed. Using symmetry in beauty photography is especially compelling because of the almost surreal perfection it implies. It can be disturbing, too, because of its otherworldly-like perfection. These feelings of compelling and disturbing evoke feelings in an audience. Which is what you ultimately want your photographs to do.
The example I'm using here is a shot I took a few years ago for a magazine in Los Angeles. Eugenia from IMG Models has a fairly symmetrical face to begin with. I originally shot this as a three-quarter image because of the garments she was wearing but when I saw how the light was hitting her face, I came in close and shot this as a beauty shot. I was using a beauty dish directly over her face so that the shadows fell evenly under her eyes and lips. I asked the make up artist to add more shadow under her eyes so that her eyes matched. The light, the make-up and her hands, even the styling, all add to the symmetrical feeling of this shot. The only "imperfect" part of this symmetrical image is the light under her nose. You can see it's almost veering towards a Rembrandt lighting or loop lighting. Those tiny asymmetrical aspects in an otherwise fully symmetrical image add even more dimension and depth to a photograph because it throws the eye off, searching within the image for the impact it's having with the viewer.
The application of body paint in fashion photography isn't exactly new. No one will ever forget the incredible body paint used on models Verushka and Twiggy to look like wild cats and flower children from the '60's. The interesting part about body paint is that you can literally paint anything you want on the model and it can compliment what she is wearing. So instead of finding a mask or gloves or necklace that completes a look, you can literally paint it on the model. The key thing here is to make sure you are working with an accomplished make up artist that has mastered the art of body painting. Body painting is a technique in and of itself. So make sure the person who will be painting your model has some killer skills. Like deciding to get a tattoo, you research and go to someone who is a really good artist instead of the local G down at your neighborhood tattoo shop. Because who wants a sloppy tatt? And who wants a terrible body painter?
The example I'm using here is on a shoot I did for L'Officiel Ukraine in 2012. It was a very colorful story, complete with colorful backgrounds and colorful accessories. The editor on this shoot brought in a specialized body painter. She used an air gun to paint the models. Watching her do this was fascinating! She created the "gloves" you see in this shot. The black elbow gloves the model is "wearing" is actually body paint. She worked side by side with the manicurist to create this look. Again, this image tricks the eye for many reasons. The garments are stripes and hard black and white lines. But the gloves are polka dotted. The round white dots emulate the colorful round dots on the background and in the round flowers around the model's face. This makes the eye move around the image. The "jet black" black paint also accents the blacks in the clothing, which also helps make the eye really "see" what the model is wearing.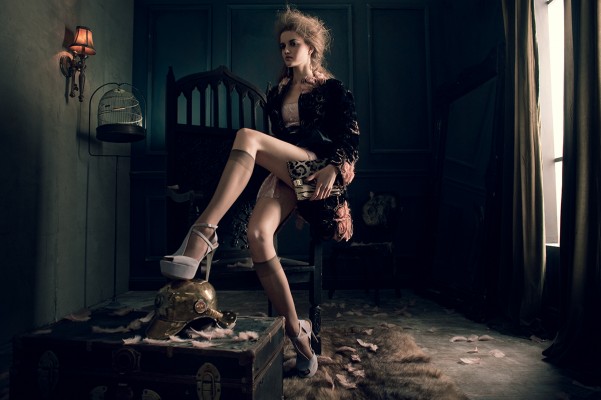 Too often our work can become stale if we're just constantly either shooting outdoors during magic hour where our light is guaranteed to be beautiful or in a studio against a grey seamless where our lighting is predictable and controlled. Either shooting in a location that already has props or working with a prop stylist can add drama and dimension and a STORY to your shoot. Yes, using a prop stylist or renting props on your own can be costly. However, there are many ways to get around this. I peruse junk stores, yard sales, flea markets and craigslist all the time for weird and unusual props. And then I store them in my apartment or studio to use at a later time. I also have a huge bag of beautiful fabrics and accessories to add a little drama to a garment when it's okay to do this. Flowers, leaves and twigs are all inexpensive props that can add beauty to your shot. You can find leaves and twigs on the street! Craft and hobby stores are also a perfect place to find interesting props.
My example here is from another shoot I shot in Los Angeles. I had the good fortune to meet a set designer at a party and he was tired of doing commercial work and asked me if he could build me a set for a fashion editorial I would be shooting in order for him to get more fashion work in his portfolio. He had a warehouse full of props and I got to go visit him and choose the props I wanted. He built this 3-walled set with one wall being a "window" that I could light the set with. The rest are props from his warehouse. The fur rug, the antique chest, the helmet, the pink feathers, the birdcage and the lighting fixture, these were all props he owned. Just like make up artists and stylists that need to test for their books and are willing to work with you for free in order to build their portfolios, there are prop stylists out there that are willing to create interesting sets for your shoots so they can get dynamic, bold, interesting imagery for their portfolios. Look for them, put an ad in Craigslist, ask the stylists you work with if they know anyone. Or do it yourself by studying photos you love that are shot on sets with props and go to Home Depot to build your set and the thrift store to find those eccentric props!